With his debut album "Starswinger", singer/songwriter Carl Beluga brings the golden age of popular music back into the 21st century.

An all-original swinging sensation of exquisite music and explosive big band orchestrations!

This debut album consists all the things you may have missed from the past, the stompin' rhythms, soaring brass and flying charts, combined with seductive melodies and romantic crooning!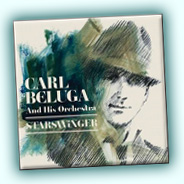 This stunningly fresh album delivers 12 ORIGINAL HOT SONGS written and arranged by Carl Beluga, and features Sweden's finest and "swingingest" players.
All in all, a feel good record from a multi-talented artist, guaranteed to bring a smile to your face and a tap to your feet! Order YOUR Copy Today!!




"Carl Beluga, is one of the finest Singer/Songwriters that has emerged since the writers of the 40/50s and I mean the GREAT ONES! His ability with lyrics and melody is something to reckon with. I am sure 'SINATRA' would have taken his material had he still been here. His 'new' Album 'Starswinger' is a must for anyone who loves the music of the 40/50s era. It also has 'hints' of 60s about it. His own performance on this album echoes the 'greats' but with a complete uniqueness and 'style' of his own. He is a definite 'find' in this 'genre' and should be applauded for his work and performance on this, his NEW album 'Starswinger' Billy Michaels - England
"Carl, every single track is simply great! "From Here To Jerusalem" ... cool beat ... I love "Leavin' Town" and "Your Intuition"! STARSWINGER is a wonderfully cool and swingin' record ... NO DOUBT!"
Andrej Rudolf - The Lucky Cupids
"I received "Starswinger" today and I am simply floored. From the retro look to the covers, the great, swinging big band sound to the excellent original songs - you have a winner!"
Bob Perry - ThePenthouseRadio.com



RECENT REVIEW...
"I don't know why, but there's something about big band jazz. Something that makes me
melt away the cold and blue feeling and lift me up. That timeless, crooning, lounging - that Frank Sinatra-tripping.

Carl Beluga is all of the above, in addition to a bunch of newly written songs, that at least in a few cases, you think you've heard before, so close to the Great American songbook that they should be cliches, worn out and long-winded, but stand firm and glowing in the dark.

Beautiful arrangements, elegant and captivating and very enjoyable. And look, a very pretty cover. A touch of class."

Magnus Sjoberg
Groove Magazine